5 Breathtaking Photography Spots in Laguna Beach
If you have been following my Instagram, then you should know Laguna Beach is my favorite place to shoot whenever I am home in Orange County.
With it's diverse beaches and coves, great food, and strong local artist community, Laguna Beach is truly a gem like no other on this planet. This picturesque seaside city is located in south Orange County, between Newport Beach and Dana Point.
Below are my favorite photography spots in Laguna Beach.
Laguna Beach Photography Spots
Shaw's Cove
Located in the northern side of Laguna Beach, Shaw's Cove is a secluded beach that has great views of the main beach towards the south and Newport Beach in the north.
During low tide, you can get some pretty awesome reflections of the peninsula with palm trees out in the distance, and hike to the peninsula which connects to Crescent Bay Beach in the north.
There is plenty of free street parking along Cliff Drive and side residential streets.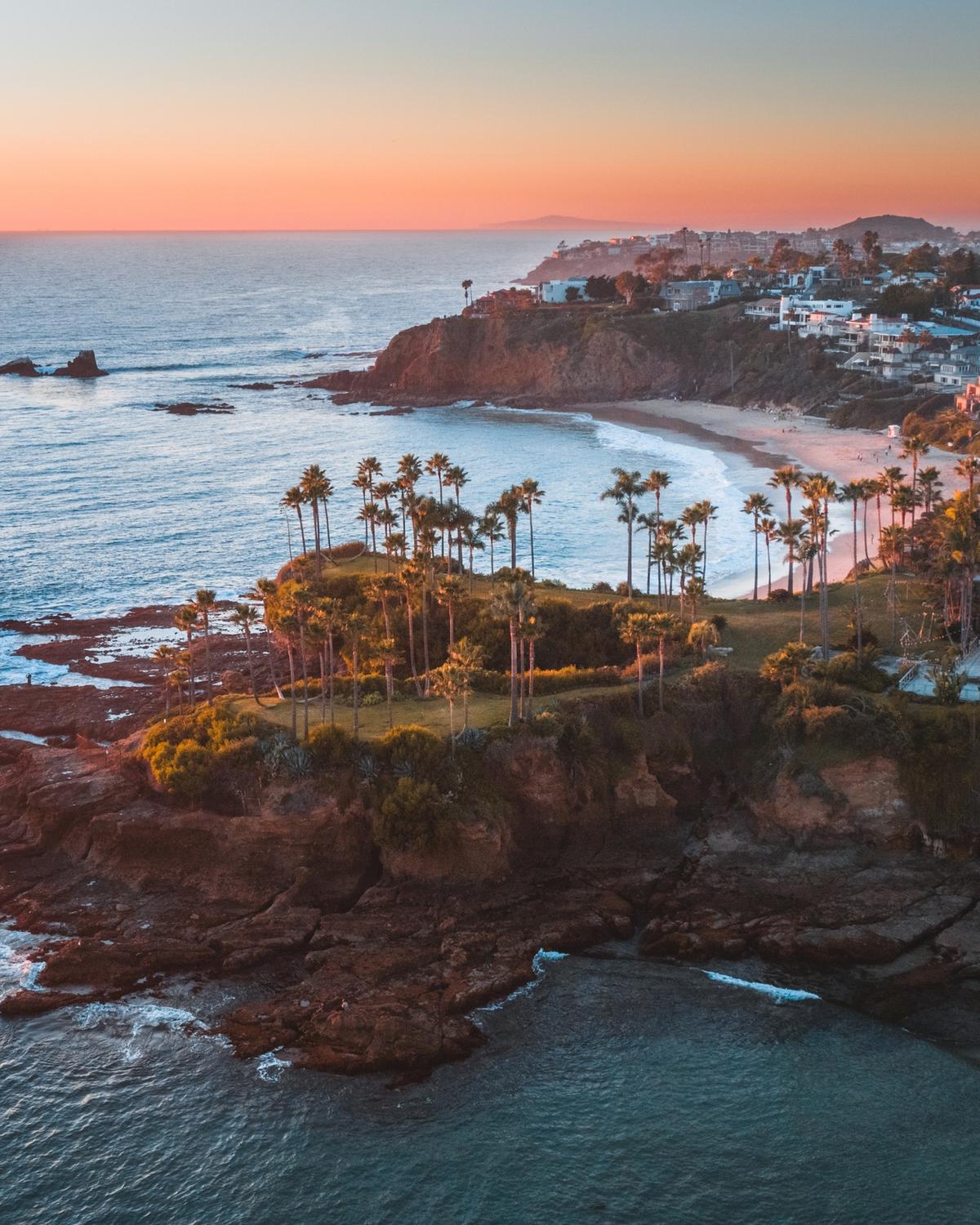 Wood's Cove
This spot is a local favorite, with a beautiful staircase leading straight down to the beach with some interesting sea rocks.
During high tide, when the waves come up the stairs truly do look like they lead into nothing but the ocean.
There is free residential parking along Ocean Way and cross streets. I recommend turning into Moss Street and then turning into Ocean Way to find parking along the way.
If you are around here, you may want to check out Moss Cove which is another awesome spot that is only two blocks away on Moss Street.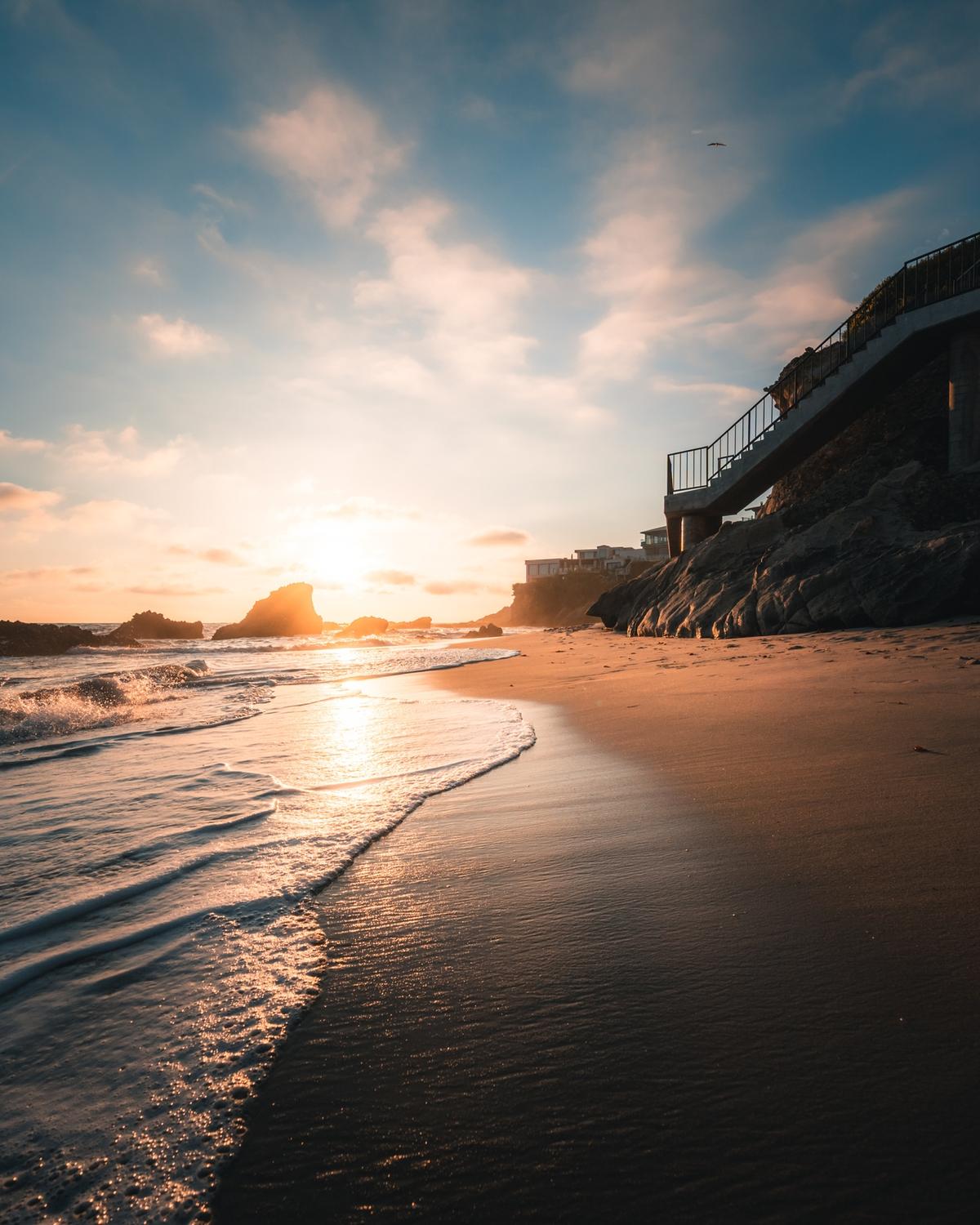 Treasure Island Beach / Montage Laguna Beach
This beach is one of my favorites because it has pretty much everything. The whole area is well maintained since the Montage Laguna Beach resort that sits right here.
The sidewalk here is by far the best one in the city. It is well landscaped and overlooks the beautiful beaches below. There are wooden benches scattered along the path for you to sit back and watch the sunset.
Accessibility from the sidewalk is amazing here as well, with both stairs and ramps leading down to the beaches.
The only downside is this is the place can get pretty crowded, especially during the weekends and holidays. Since it connects with the resort, there may be events around the area as well. It is quite common to see a wedding taking place around the area.
Parking is free after 7 PM which is perfect for late sunsets during the summer. There is also free residential parking across the street up on Wesley Drive.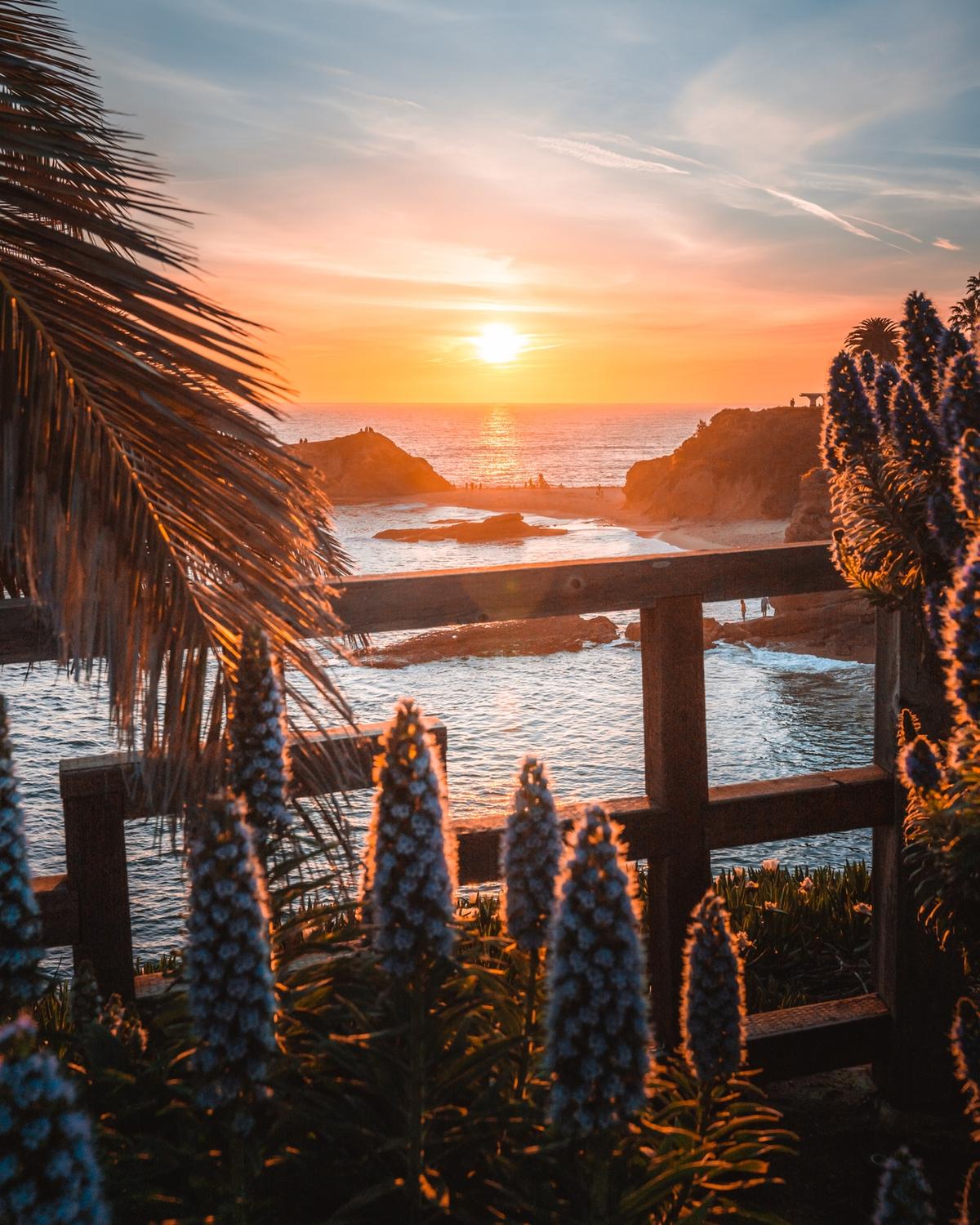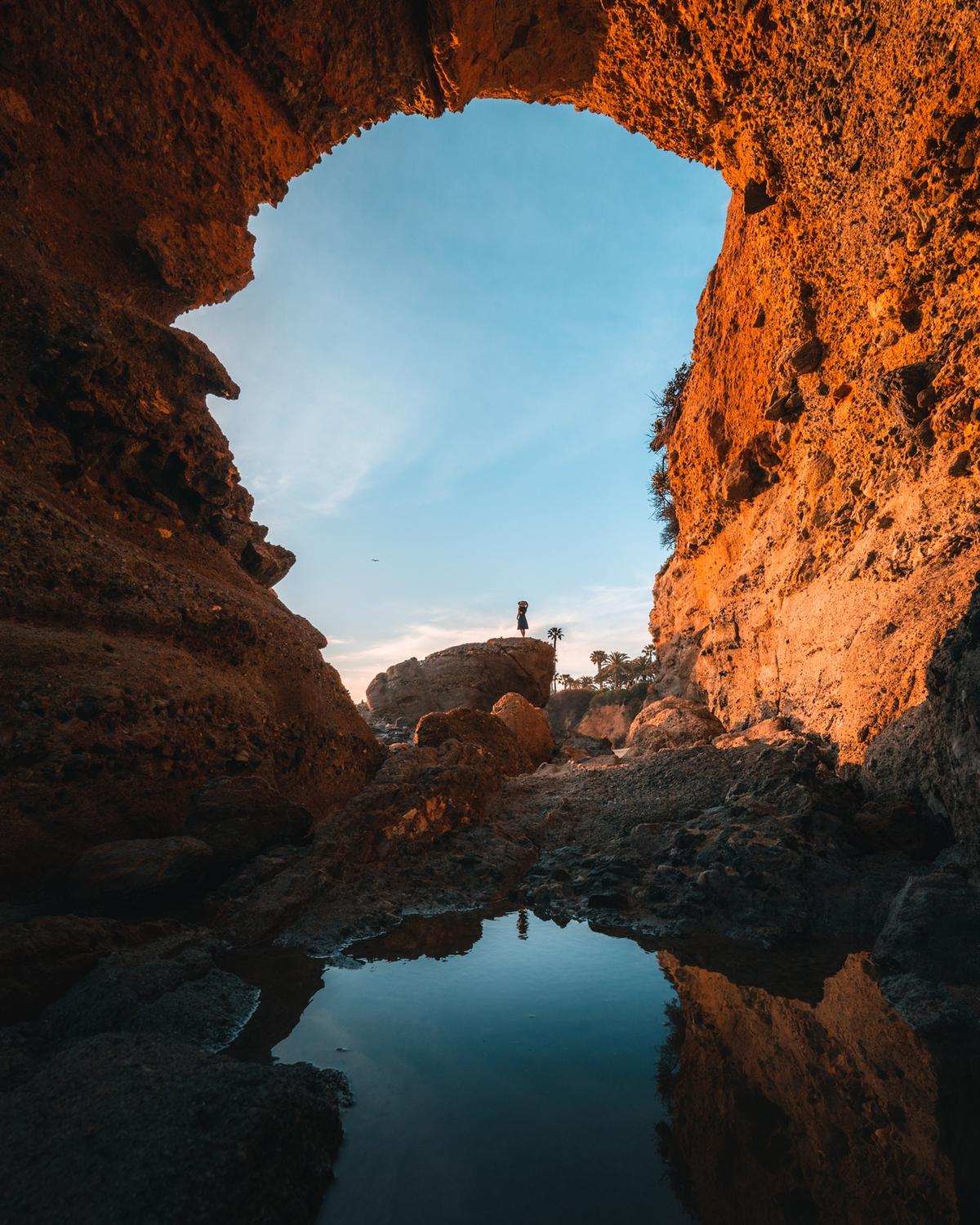 Aliso Beach Park
Further south of Treasure Island Beach is Aliso Beach Park. During low tide, you can easily walk along the beach to Treasure Island.
The south part of this beach has some interesting rock formations and tide pools that are definitely worth exploring.
This is also the only beach in Laguna Beach with fire pits, so this beach is perfect for a sunset shoot followed by a bonfire into the evening.
There is paid parking right next to the beach and free parking along Pacific Coast Highway.
Victoria Beach / Pirate Tower
Probably one of the hardest beaches to find since it is tucked away in a residential neighborhood and the entrance stairs down to the beach look like someone's house.
This is a fun spot for long exposures with the pirate tower as a subject. It is also a great spot for aerial photos, with the symmetry of the mad-made pool.
There is free parking along Pacific Coast Highway on both sides. The side across the street has more parking and there is a underground walk way to get across without crossing the highway.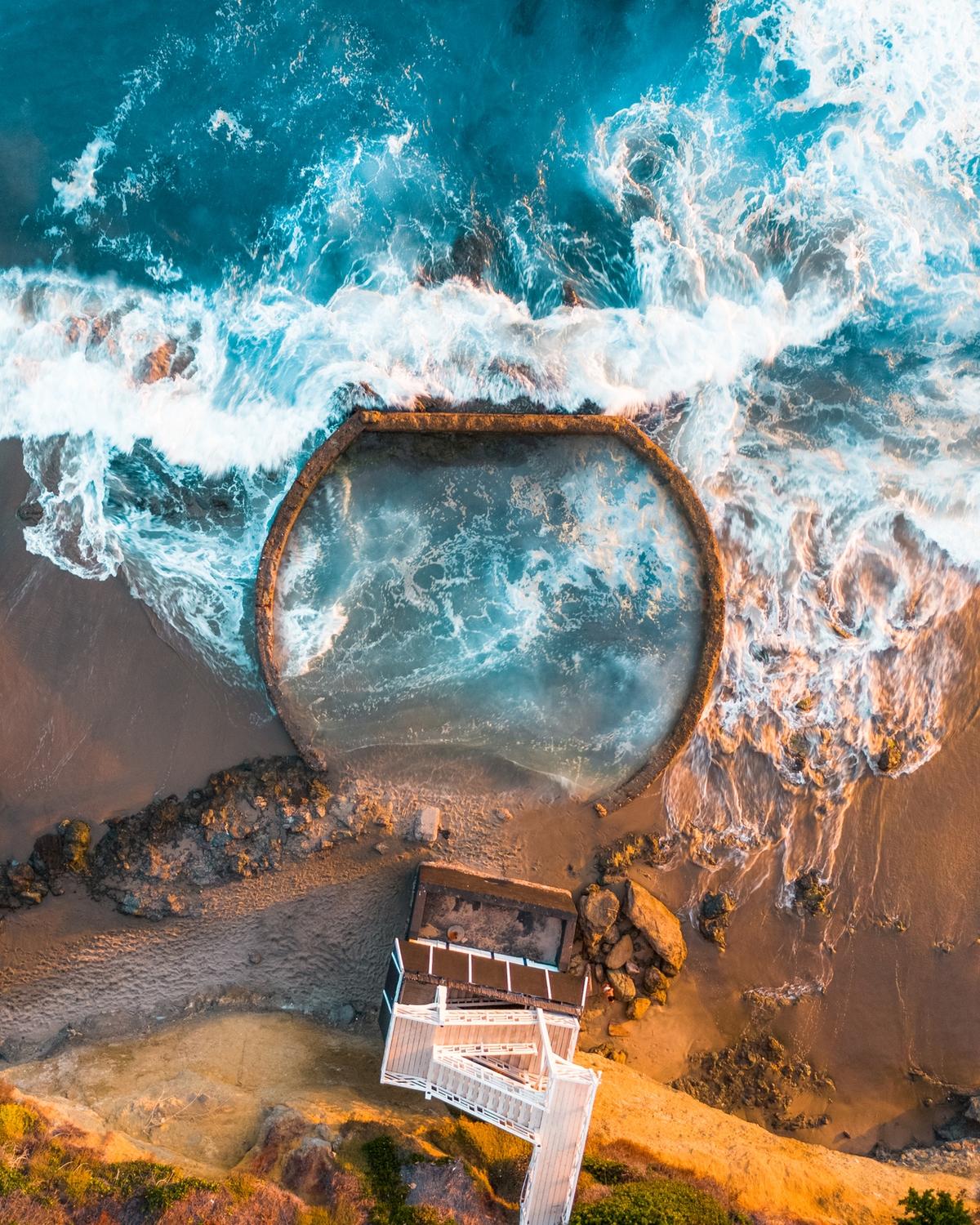 Final Thoughts
This city will always be a special place for me. It is where I spent countless evenings exploring the coastline, learning to appreciate not only the ocean but also photography and capturing fleeting moments.
I believe in sharing this place because it is a gem that deserves to be enjoyed by everyone. With that said, if you do visit, please leave it better than you have found it. This means picking up trash and keeping the streets and beaches clean and for others to enjoy.
Flying drones is not permitted in Laguna Beach, unless you have a Part 107 license. Refer to City of Laguna Beach's Drone FAQ for more information.
...
Subscribe to Derek Liang
Get the latest posts delivered right to your inbox